Overview
The 2021 Ford F-150 Raptor aims to fly higher, pound across the desert faster, and look meaner than its predecessor. This all-new, third-generation Raptor remains a bulkier body double of the regular F-150, which means they share technology and several innovative features. However, Ford's high-performance pickup truck is also fitted with impressive off-road equipment, such as a sophisticated long-travel suspension and available 37-inch all-terrain tires. Assisting the Raptor's powerful twin-turbo V6 is a paddle-shifted 10-speed automatic transmission and standard all-wheel drive. Though its engine produces 450 horsepower, that's still relatively wimpy compared with the 702 HP Hellcat V8 in the Ram 1500 TRX. That's why Ford is developing an even more ferocious Raptor R that should mark the return of a raucous V-8 engine that earns it entry into the 700-hp club.
What's New for 2021?
Ford has finally pulled the covers off the new-generation F-150 Raptor. The Raptor gets a redesigned rear suspension, a new five-link coil-spring setup that replaces the outgoing truck's leaf springs plus larger internal-bypass dampers. Combined with newly available 37-inch tires, this generation should be even more capable off-road. Inside, the Raptor inherits styling and features from the recently redesigned F-150. Highlights include a fully digital gauge cluster, a 12.0-inch touchscreen infotainment system, and a shifter that folds flat into the center console.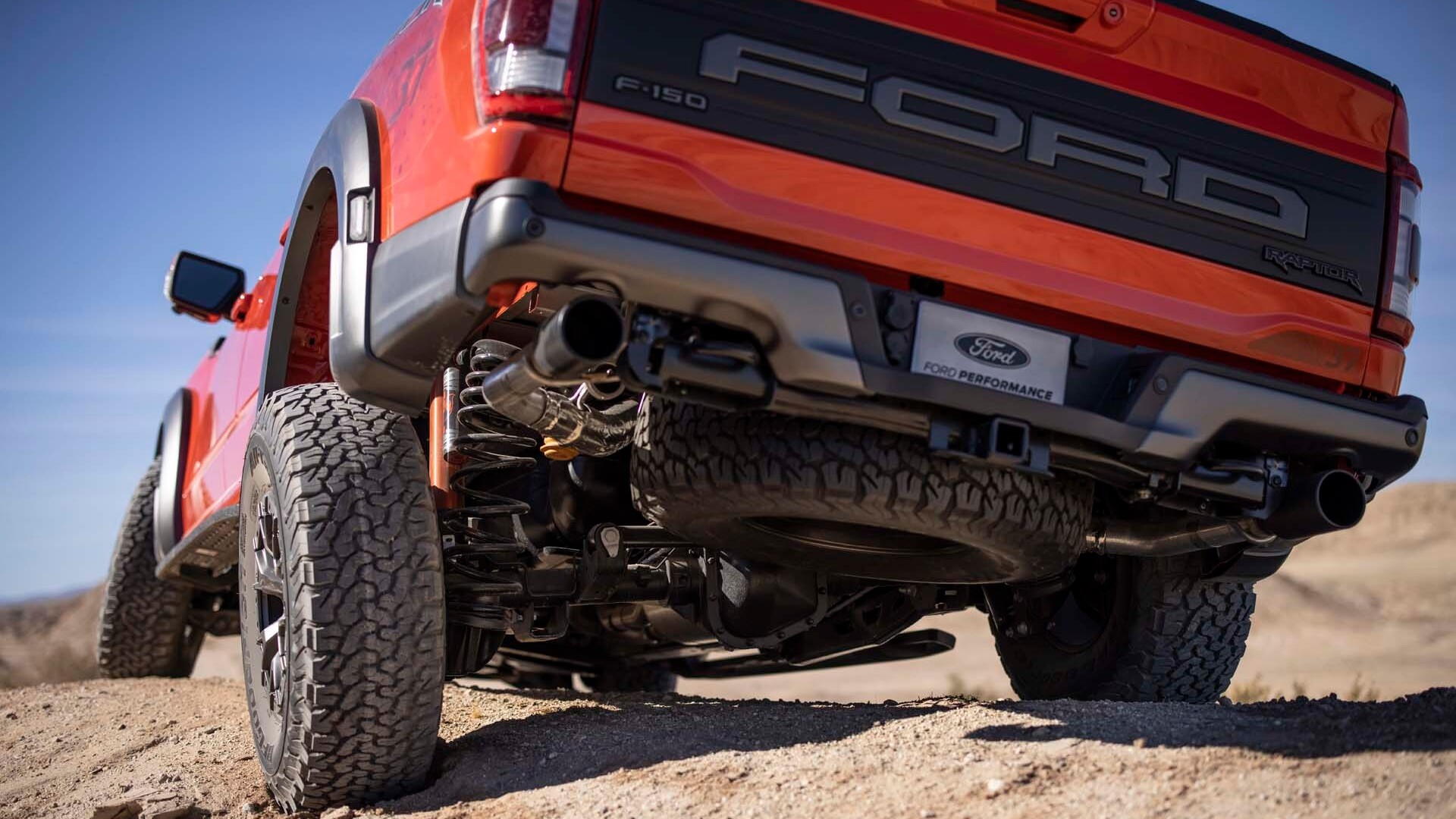 Engine, Transmission, and Performance
The F-150 Raptor's new hood, which now features a prominent heat extractor, is the familiar high-output version of Ford's 450 HP twin-turbo 3.5-liter EcoBoost V6. It breathes through a new 3 inch exhaust system that reportedly enhances the truck's V6 soundtrack. The engine still pairs with a paddle-shifted 10-speed automatic transmission that feeds all four wheels through a standard all-wheel-drive system. If that's not enough for you, just wait. Ford plans to counter Ram's 702 HP, half-ton pickup truck—not-so-subtlety called the TRX—with an equally powerful engine in the upcoming Raptor R. Rumors suggest the R could inherit a version the Shelby GT500's 760 HP supercharged V8. Regardless of the powertrain, every Raptor rides on a new, more sophisticated suspension that now includes larger internal-bypass dampers and a five-link rear coil-spring setup that replaces the previous model's leaf springs. Ford claims these updates help improve the truck's traction, ride quality, and handling characteristics. Along with other chassis enhancements, a selection of 17 inch rims, and a standard set of 35-inch tires, the Raptor now also offers a set of 37 inch BFGoodrich all-terrain tires for better approach, departure, and breakover angles as well as ground clearance that increases from 12.0 to 13.1 inches.
Towing and Payload Capacity
The F-150 Raptor can tow even more than the version it replaces. Its maximum payload and conventional tow ratings both increase by 200 pounds to 1400 and 8200 pounds, respectively.
Fuel Economy and Real-World MPG
The 2021 F-150 Raptor is rated up to 15 mpg in the city and 18 mpg on the highway. Opting for the larger 37-inch tires can reduce those figures to 14 mpg city and 16 highway. Once we have the opportunity to test one on our 75-mph highway route, we can evaluate its real-world mpg.
Interior, Comfort, and Cargo
The Raptor's cabin enjoys the same design layout and passenger space as the regular F-150 SuperCrew. The high-performance version comes standard with a 12.0-inch digital gauge cluster and boasts more interior storage space as well as what Ford says are nicer materials. The new steering wheel wears a laser-etched logo and now has a race car-style orange mark at the 12 o'clock position; prominent aluminum paddle shifters still lurk behind the spokes. Along with the standard aluminum interior trim, the Raptor is available with optional carbon-fiber interior accents and more aggressively bolstered Recaro front buckets. The high-flying pickup will no longer be offered in the SuperCab body style. At least the SuperCrew crew cab version offers more back-seat space. It pairs with a 5.5-foot cargo box.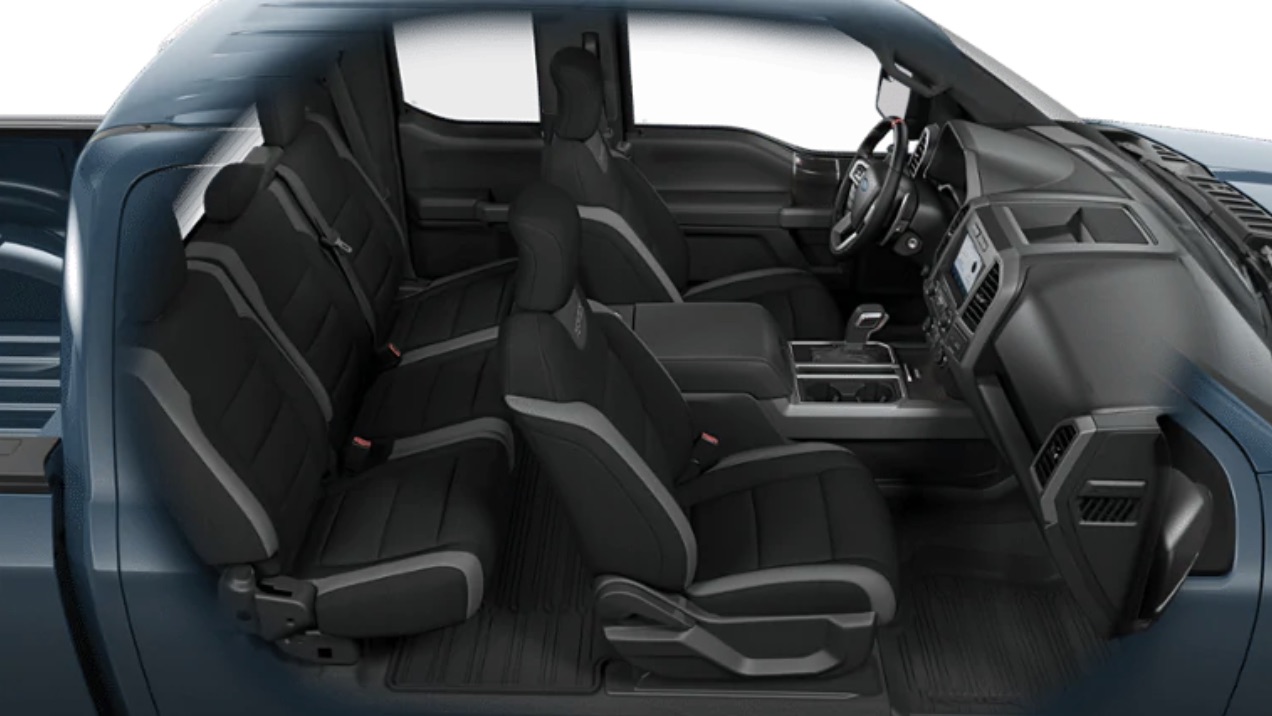 Infotainment and Connectivity
Dominating the Raptor's dashboard is a huge 12.0-inch touchscreen that supports the truck's standard Sync 4 infotainment system. Along with the ability to interact with Amazon Alexa and receive over-the-air updates, it features wireless Apple CarPlay and Android Auto. We also appreciate that Ford included physical volume and tuning knobs to complement the steering-wheel controls and voice commands. Those who want to improve the audio experience can opt for the 18 speaker B&O sound system. The Raptor can also be equipped with a useful 2.0-kW mobile generator that's mounted in the cargo bed and can run power tools and other equipment.